Prices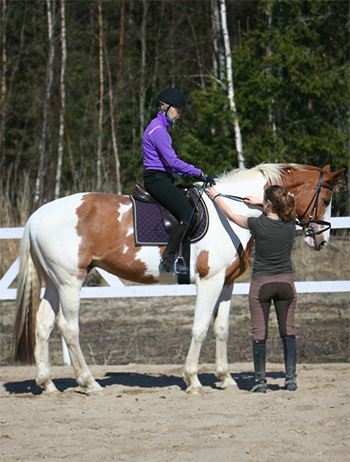 In coahing session you will get intense and customized teaching and excercises to practice in between sessions.
New students:
Welcome! Please fill in a starting query here (coming soon!)
include VAT 24%
Booking and cancellation look here
Coaching sessions
With our without a horse

At your place
Private session: 65 €/h tai 53€ / 45 min
Pair session 42€ / person

2h session where we meet with a horse and deal with the topics that rise 100€

+ travel expences shared by participants
Minimum charge 1h
Schooling / training a horse 37€ + travel cost. Tacking up + 5€
This is not a teachis session for the rider. Only to analyze and train the horse.

Would you like to participate without your own horse?
We have some trained horses for you for 20€ / session
I recommend a contract for training!

Some examples:
'Intense'
Contract for 3 months including:
1 session with horse every week
Precise practice plan for the whole time and individual sessions
Begin-point and end assesment together with the coach
Pictures and videos taken in the beginning and in the end
List of result and follow-up together.
Investment: 690 € (or paid monthly 230 € / month x 3) includes teaching 6h / month
Courses
Courses 90 € / day (minimum number of participants 4 )
Contents and duration will be planned together with the facilitator to meet participants need in the best way possible.

Includes 90 min in workshop: body awareness and theory of the selected subject and
either 60 min lesson with horses in 2-3 rider groups or 30 min private
Clinics
Contact me and let's plan an inspring clinic for your need! tea@equilibra.fi
Booking and Cancellation / Terms and Conditions:
FOR INDIVIDUAL LESSION / WITHOUT COACHING CONTRACT
BOOKING
Lessons and courses are by e-mail or at previous lesson.
Confirmed lesson is confirmed and we will apply the regular cancellation rules
CANCELLATION
All cancellations / re-bookings must be done 2 days before.
In less than 24 h from lesson time we charce 10€ / person and in less than 4h the whole payment.

In exception to that we can tolerate 1 case emergency / 2 months
LIABILITY AND SAFETY
Everyone takes part with their own risk. Insurance is recommended. When riding we use a properly fitted helmet.
Payments:
Lessons and courses are paid with
invoice (.pdf by mail, printed invoice + 5€)
cash at the beginning of the lesson


New students:
Welcome! Please fill in a client info form here